Delivery costs
Shipping in Germany
For shipping within germany, we charge only € 5,90.
From an order value of € 175.00 its free of shipping costs. 

 
Shipping into the EU
We deliver our goods in all countries of the EU.
From the 19th bottle we charge the price again for shipping into the following countries: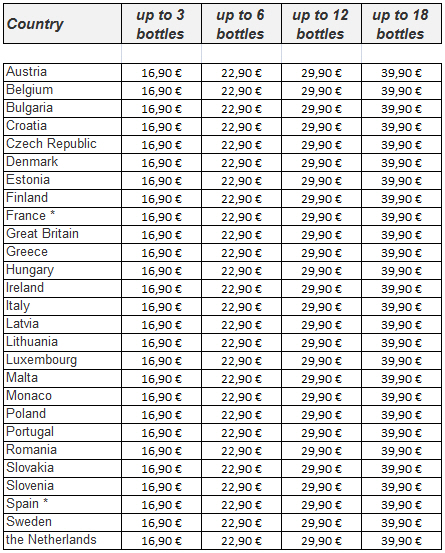 *shipping costs to Balearic Islands (Mallorca/Ibiza) and french overseas territories:
up to 18 bottles à 0,75 L: € 69.00
up to 36 bottles à 0,75 L: € 129.00
Shipping into Switzerland
We charge 35,90 € per carton with 12 bottles and do not charge the german vat of 19% of your order. After delivery you have to pay additional duty fees and the vat.